"In our first 3 months of partnering with Shuttlerock they have been able to help us scale our paid media creative and the ROI proved itself instantly. Their model is ideal for a brand like ours and the creative output continues to be forward-thinking, premium and exceeds expectations."
Creative Assets Delivered
Melissa Mathewson
Senior Creative Manager, Health-Ade
Health-Ade adopts Shuttlerock subscription to efficiently scale creative production
From their humble beginnings at Farmer's markets to becoming one of America's fastest selling Kombucha brands, Health-Ade has quickly made their mark within the competitive drinks category by pairing a high-quality product with a distinctive brand identity.
Looking to continue on their fast growth trajectory by ramping up promotional efforts across digital channels, Health-Ade's brand marketing team were on the hunt for a creative solution that would enable them to efficiently produce high volumes of top-quality creative.
This search led to Shuttlerock's Creative-as-a-Service (CaaS) solution—a modern, subscription-based offering that is equipping Health-Ade with a steady stream of optimized digital creative for use across platforms such as Facebook, Instagram, TikTok and Pinterest.

Three months into their subscription, Health-Ade has produced over 80 creative assets spread over ten diverse projects. From a direct response-focused set of Black Friday ads to brand-oriented evergreen videos, Health-Ade has been taking full advantage of Shuttlerock's solution to amplify their creative output.
Satisfying Health-Ade's ever-increasing creative requirements
Health-Ade has been able to ramp up the volume of the creative they're producing due to the scalability and always-on nature of Shuttlerock's subscription model. This enables them to build as much creative as they need, whenever they need it.
Combined with Shuttlerock's cross-platform creative capabilities, this scalability is equipping Health-Ade with the full scope of assets that they need to successfully reach, engage and reinforce messaging to audiences that are dispersed across a variety of channels.
Facilitating scale, quality, speed and affordability with a streamlined creative production workflow
For Health-Ade, scalability is of high importance. However, other key factors include quality of creative, quick turnaround times and affordability, all of which need to be considered when deciding which creative solution is a perfect fit for their needs.
With this in mind, let's take a look at how Shuttlerock's creative production methods are enabling Health-Ade to scale their creative output without having to compromise on quality, speed or cost.
What you can see above is a simplified overview of Shuttlerock's production process. The key thing to note is that this method enables Health-Ade to leverage their existing brand assets, transforming them into top-quality video creative.
By drawing on the treasure trove of image and video content that they are already producing for organic social posts and their web-store has meant that Health-Ade doesn't have to start from scratch when building creative. This method keeps costs low and turnaround times fast—they key ingredients for scale. And when you add into the mix the fact that each project is worked on by Shuttlerock's 100% in-house team of creative experts, quality is also ensured.

All of these ingredients are tied together by ShuttlerockCloud—a dedicated platform that Health-Ade's brand marketing team utilizes to oversee and manage each of their creative projects in a centralized and streamlined manner.
Benefiting from subscription model's cost-certainty
Along with streamlined, scalable production, another major drawcard for Health-Ade when adopting Shuttlerock's subscription model was the price certainty provided by a fixed-cost structure.

This has given Health-Ade the freedom to plan ahead with budget clarity, building creative assets in advance rather than scrambling at the last minute. It has also enabled Health-Ade to experiment more with their creative strategy—testing multiple creative concepts, learning from what is working, and then making adaptations in order to drive stronger performance.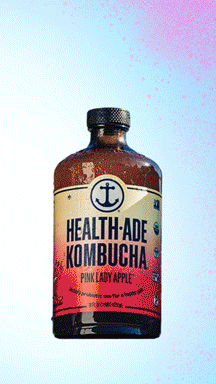 "Shuttlerock has enabled us to be nimble in learning what ads perform well and apply the learnings to what we're creating next in an acute and immediate way. They've allowed us to pivot and manipulate a message, a line of copy or a flavour that is performing better than another so we can quickly adapt and get more from each asset."
Melissa Mathewson | Senior Creative Manager, Health-Ade